Famine of the Word of God!
Church of The Living God
Booklet Index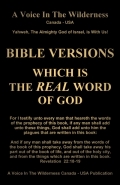 The booklet Bible Versions is spread over several pages, accessible through the Index below. Alternatively, you may download it as One File. (230K)
A FREE printed copy of this booklet is also available on request. To receive a copy, please complete our Information Request Form. Before making your information request, please read our Booklet Policy.

Part One
Part Two
Part Three

Modern Translations

Other Ancient Writings

A Voice In The Wilderness - Canada
Ref.Books
KJV Sites
FAQs about Bible Versions

Elder: Max W. Mader
A Voice In The Wilderness - Canada
Web-Sites - www.avoiceinthewilderness.org & www.avitw.ca
First Published: 1998/Placed On The Internet: 1999
Updated: 2000/Reformatted: 2002/Updated: 2009/2010

Author: Elder: David B. Loughran
Stewarton Bible School - Stewarton Scotland